In 2022, Baltic Horizon participated in the GRESB assessment for the fourth time. We achieved a 4-star rating, thereby exceeding our goal to reach 3-stars, which was a great achievement by the entire team. We are proud to keep our 4 stars rating this year. We use the assessment to measure our progress against our peers in the industry. We remain committed to continuously improving our ESG performance, and we hope to improve the rating next year, comments Tarmo Karotam, Fund Manager for Baltic Horizon Fund.
In the assessment, the fund achieved a total score of 82 of out a possible 100, representing the third highest GRESB score in the 'Northern Europe | Diversified – Office/Retail | Listed' peer group.
---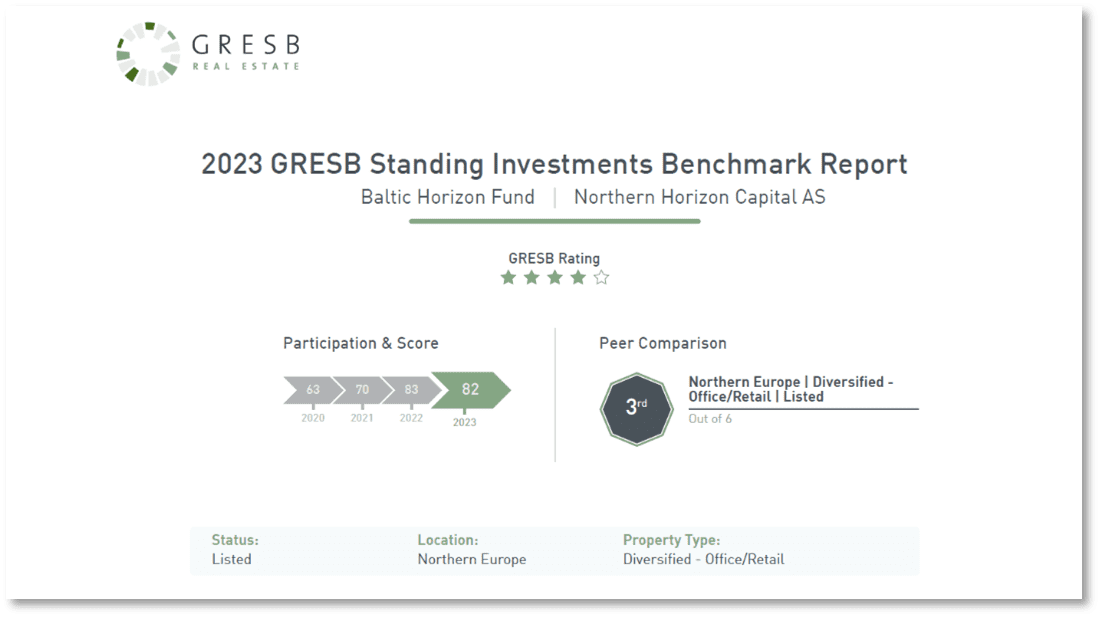 ---
Our action plan for the coming year is to improve tenant and community metrics, to set more measurable ESG targets for the fund, and to improve the performance module by increasing  the environmental data coverage and reducing CO2 emissions, adds Vilma Pasanen, Head of Sustainability & Compliance Officer at Northern Horizon.
Global Real Estate Sustainability Benchmark (GRESB) is widely recognized as the standard for measuring sustainability performance. This year, 1,820 property companies, REITs, funds from 74 countries have taken part in the assessment.
For further information regarding GRESB Assessment, please see the GRESB website.
The 2022 ESG report for Baltic Horizon Fund is available on baltichorizon.com.
For additional information, please contact:
Tarmo Karotam
Fund Manager
tarmo.karotam@nh-cap.com
+372 508 9044
Vilma Pasanen
Head of Sustainability & Compliance Officer
vilma.pasanen@nh-cap.com
+358 400 284 785
---
About GRESB
GRESB is a mission-driven and industry-led organization that provides actionable and transparent environmental, social and governance (ESG) data to financial markets. GRESB collects, validates, scores and benchmarks ESG data to provide business intelligence, engagement tools and regulatory reporting solutions for investors, asset managers and the wider industry.
About Baltic Horizon Fund
Baltic Horizon Fund is a listed real estate fund delivering value to investors through active management of commercial real estate in the Baltics. The portfolio consists of 12 properties in the Baltic capitals. The Management Company (AIFM) of the Baltic Horizon Fund is Fund Northern Horizon Capital AS.