Hybrid is the key word when talking about attractive shopping and service centers of the future in the Baltic capitals. Thus, in recent years, the Baltic Horizon Fund has focused its investments on bringing new concepts to life in centers located in the heart of capital cities.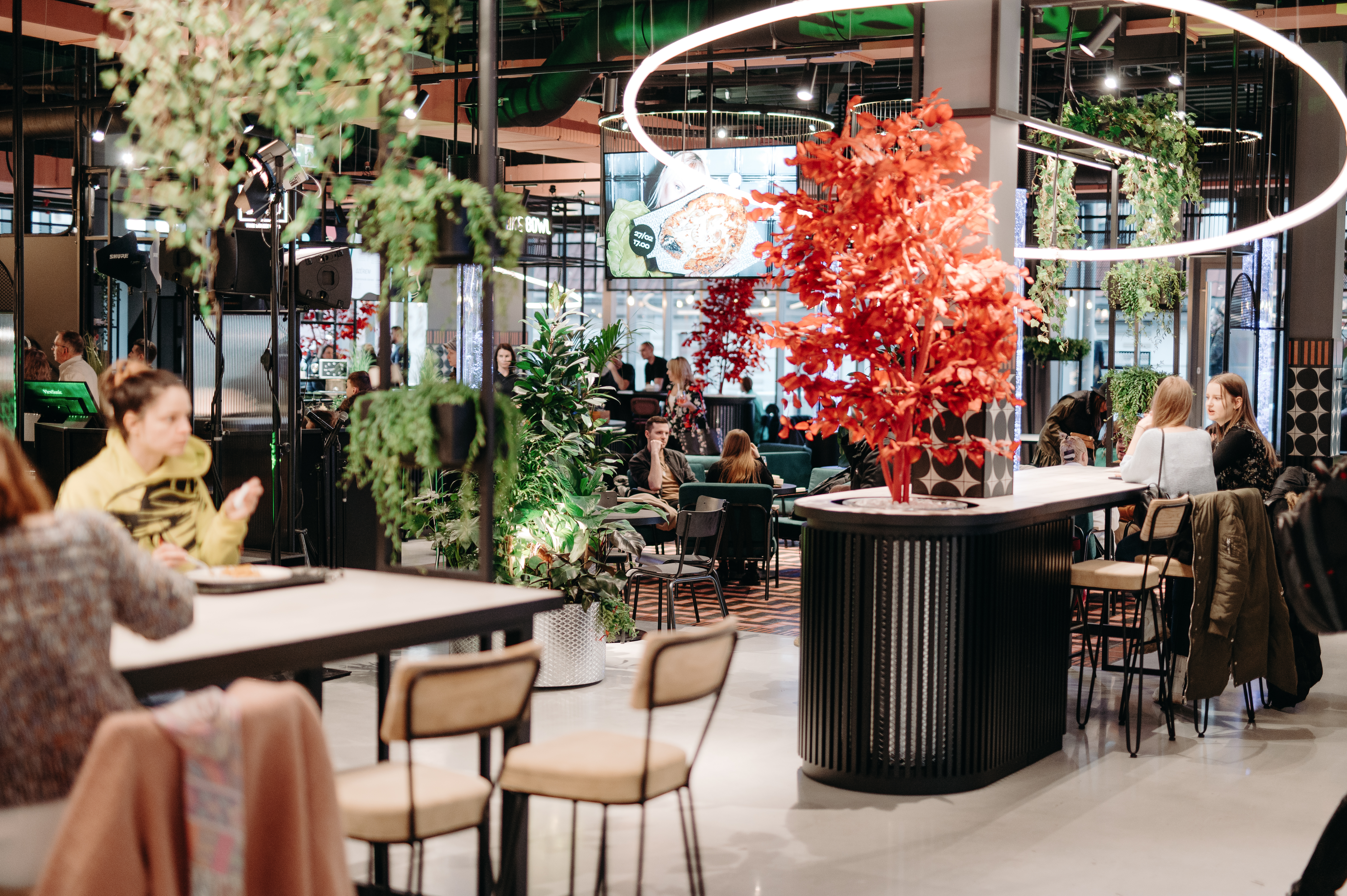 ---
The new concepts no longer contain only food, fashion and clothing stores, but also cinemas, sports clubs, beauty services, clinics and coworking areas. In addition, a new megatrend in centers is authentic and high-quality food areas. With the participation of the new mayor of Riga, Baltic Horizon opened the BURZMA food area with views of the old town and terraces on the 4th floor of its Galerija Centrs downtown center.
Baltic Horizon is opening a food hall with a modern concept in Riga's old town
The shopping centre Galerija Centrs in Riga's old town will become the home of a new food hall this year, offering a dining and entertainment experience with a unique concept to both locals and visitors.
Foodies will be taken on an exciting flavour journey on the fourth floor of the shopping centre, which was opened 85 years ago in Riga. Created in close collaboration with Latvian interior design experts, the food hall offers ten authentic and contemporary cafes, restaurants and bars in one single concept.
According to Jūratė Gaspariūnienė, Retail Asset Manager at Baltic Horizon, a listed real estate fund and the owner of the building, the old town will become a trendy new spot for both Latvians and people visiting Riga. "The innovative layout was created so that people could enjoy an adventure and relax at the same time," says Gaspariūnienė.
Surprises and visual excitement for visitors
High-quality finishing elements, furniture in contrasting tones and a thought-out layout truly create a feeling of surprise and visual excitement. Gaspariūnienė says that the food hall is a fantastic place to meet up with friends, colleagues, and family, enjoy food, meet new people, organise events, host fashion shows, etc.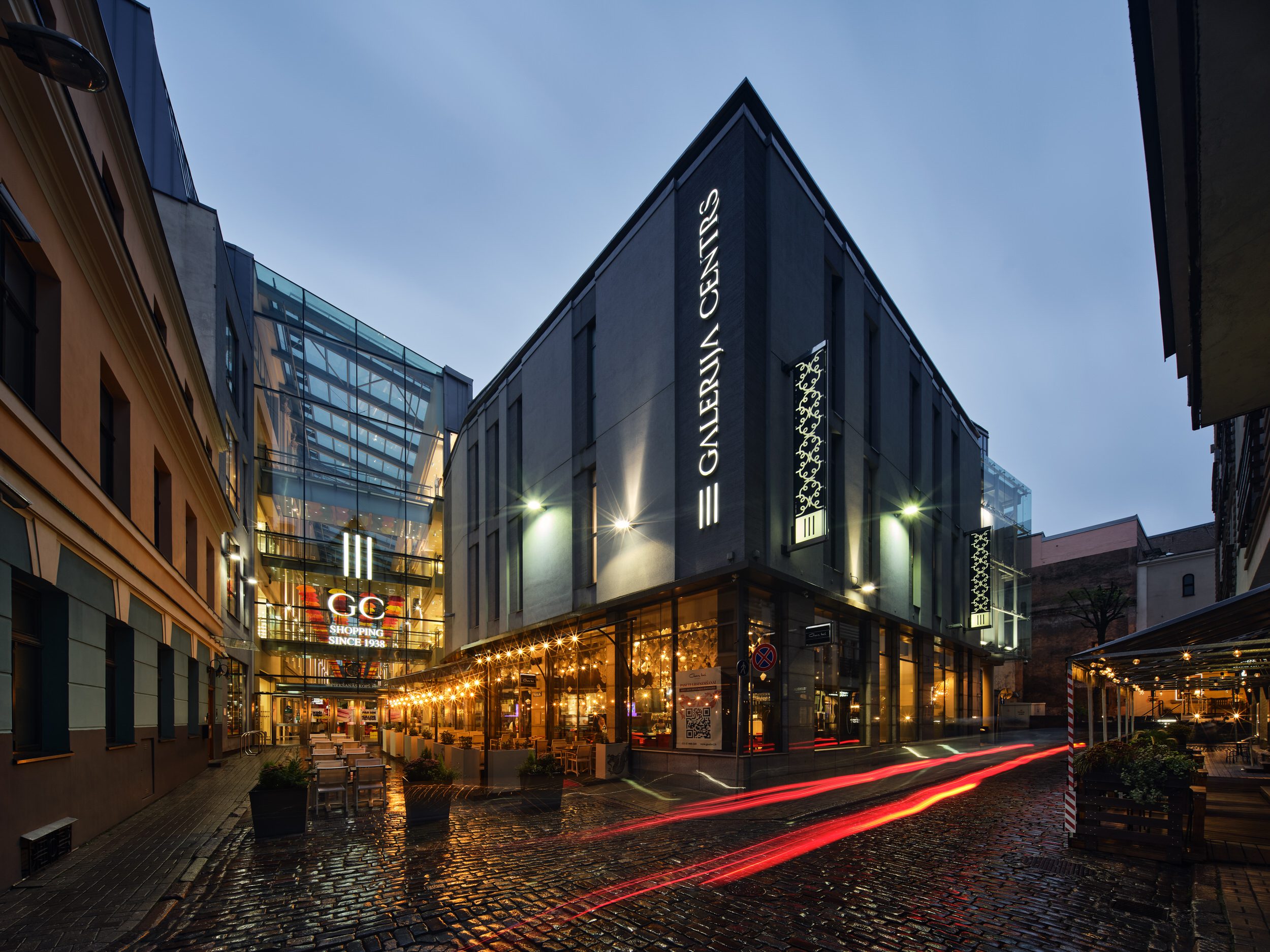 ---
1,500 square metres of space was renovated on the fourth floor of the Galerija Centrs shopping centres to create the food hall. The renovation includes opening up the facade with large windows directed towards Riga's old town and creating cozy terraces on the roof. The project is led by Baltic Horizon Fund and CBRE Baltics, an international commercial real estate advisory firm, has managed the concept development and is property manager.
Baltic Horizon invests in commercial real estate in the capitals of the Baltic, and this is the fund's first project in Riga that is being developed together with Evija Kirsone from her famous design studio in Latvia.
Divided into the separate Grab&Go and Rest&Taste zones, the food hall accommodates early and late breakfast, delicious lunches, afternoon snacks and dinners. It's an area for a dining experience where you can comfortably spend time and is also in line with the latest retail trend: "Let me entertain you".
The right place to introduce the unique concept
"For years we have had great dining areas, and now we are launching a food hall that offers restaurant-quality food and atmosphere," says Baltic Horizon's Retail Asset Manager Jūratė Gaspariūnienė. "This is something Riga really deserves and that our visitors have wanted for a long time," says Gaspariūnienė.
Gaspariūnienė says that Latvians are more used to food halls that contain fast food places. The same food halls usually have craft restaurants, charcuterie shops and other food-related boutiques under one roof.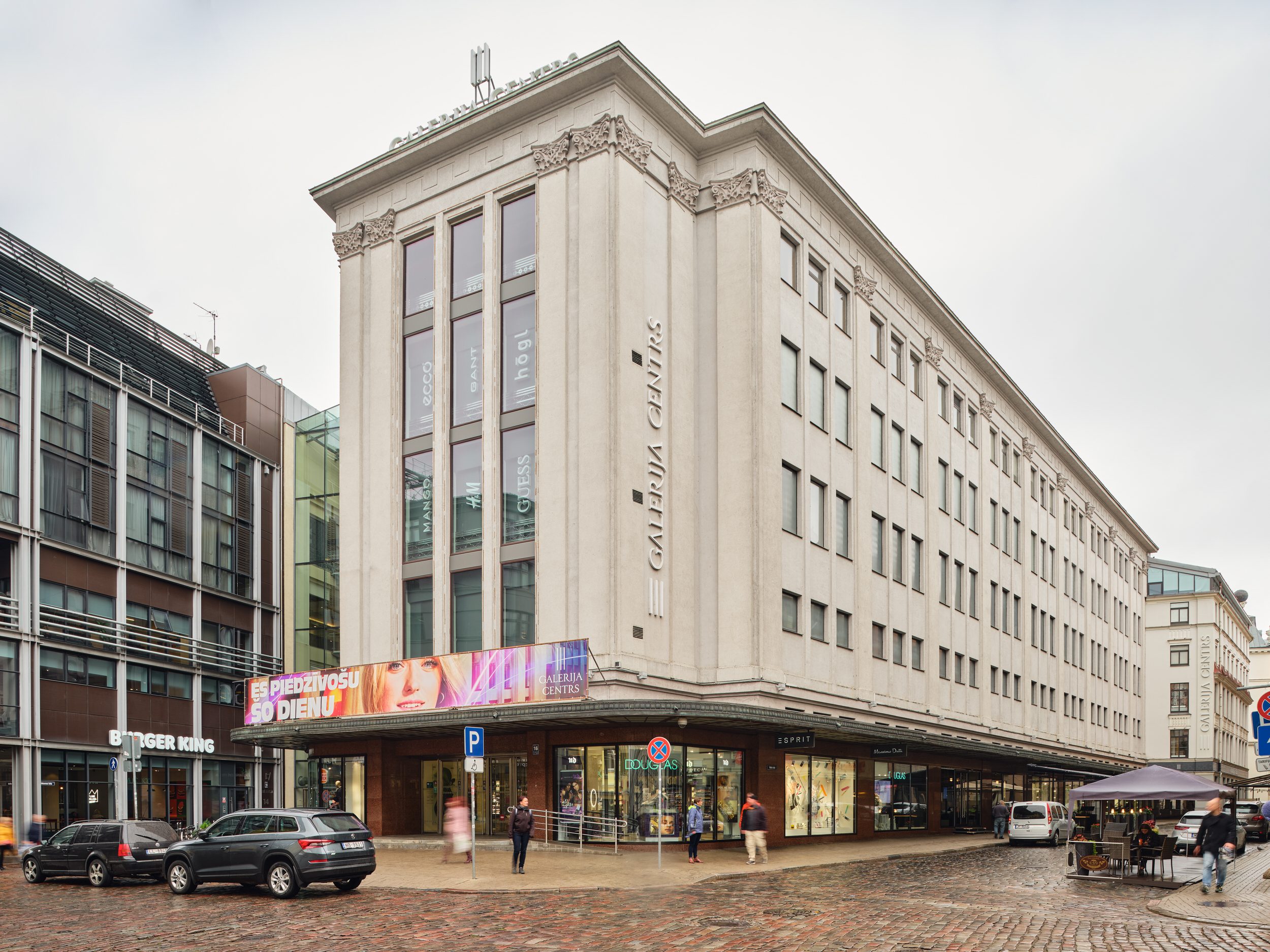 ---
And there is probably no better place to introduce a new concept than at Galerija Centrs. It's hard to imagine Riga without the elegance provided by the several floors high army store (Armijas Ekonomiskais veikals) that was built on Audeju street in the old town in 1938. In the construction, the most modern engineering solutions of the time were used, and the building interior was designed in a neoclassical style. All four floors were retail and the selection of goods was just as rich then as it is now.
The pearl of Riga's shopping centres renovated again
The pre-war building was renovated and updated in 2006 with two new buildings and integrated into a single complex while maintaining the historic and architectural charm and adding modern details and elements.
The modern and sophisticated shopping centre Galerija Centrs is like a gallery of modern goods in the centre of Riga and the first fashion and shopping centre in the Baltics that thanks to its glass walls and glass roof has natural light every day. It is an obvious meeting place for people who love an active contemporary lifestyle.
The interior of the centre reflects history and traditions with a flavour of the culture, people, tastes, and elegance of the Latvia capital. The combination creates a historically unique environment that houses well-known brands from the world of fashion.
Eight million visitors a year
The charm of Galerija Centrs attracts nearly eight million people to the shopping centre every year. In total, there are over 70 shops plus cafes, restaurants, and various services. And to add, this year the centre will welcome an international anchor tenant that will open their first store in the Baltic States. According to Baltic Horizon, all of this will help maintain and reinforce Galerija Centrs as a leader in retail innovation.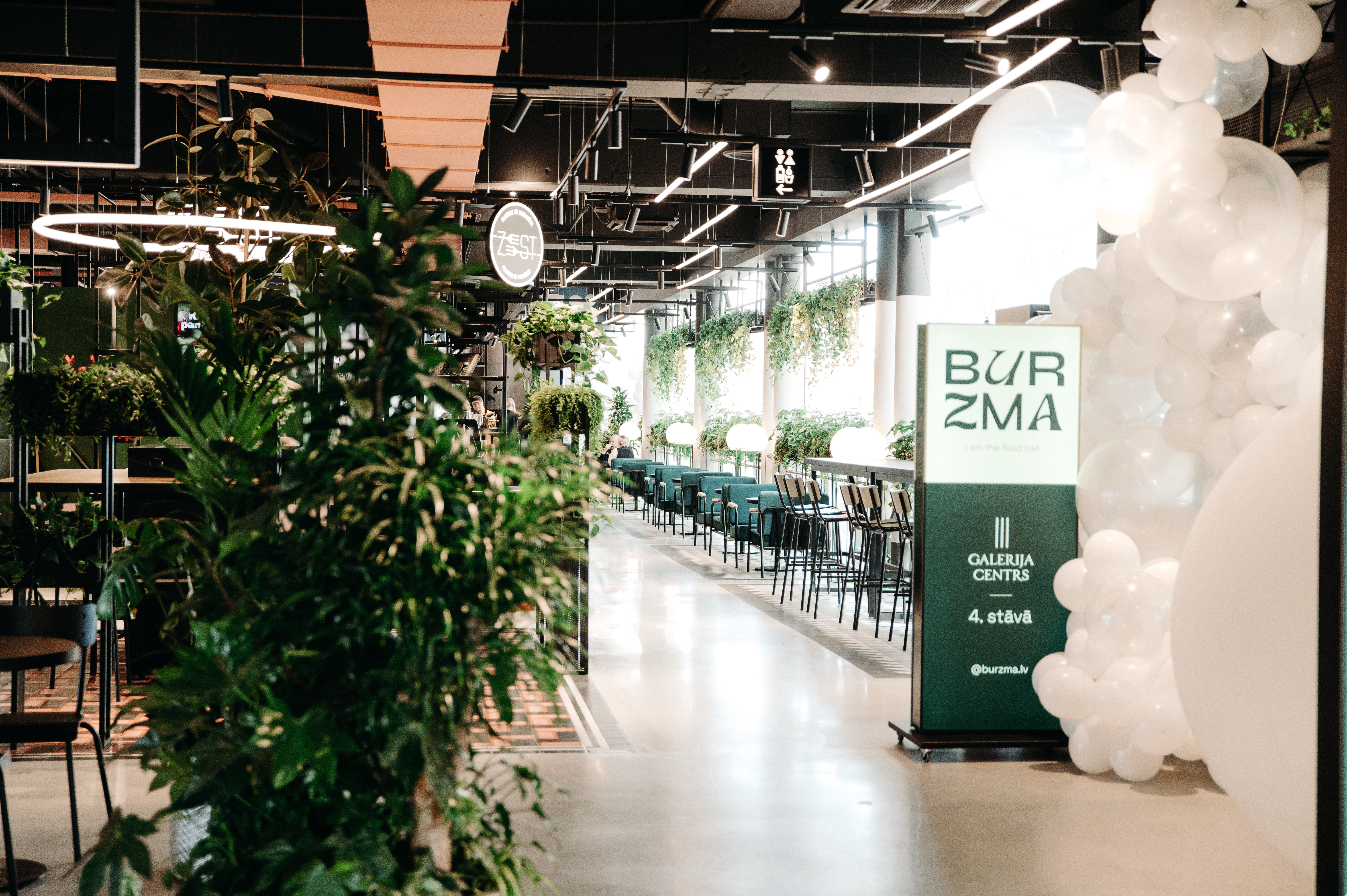 ---
Galerija Centrs is one of Baltic Horizon's three shopping centres located in the Baltic capitals – and it is also the fund's biggest retail space. As such, Galerija Centrs is a key asset.
Vilnius is also a place for foodies
In January 2022, Baltic Horizon Fund opened the new food hall 'Dialogai' in Europa Shopping Center in Vilnius. At the cafes and dining spaces in 'Dialogai', you can enjoy breakfast, lunch or dinner. Actually, you can have your meetings and even spend your whole workday there.
The nearly 900-square-metre food hall has natural light and greenery that blends in with the rest of the shopping centre in an organic manner. Created by the Finnish architecture studio Bolder, the food hall accommodates 300 visitors, offering dishes from ten different restaurants.
So, people who come to Latvia or Lithuania for business or pleasure should consider visiting the innovative food halls and take some time to relax during their trip and spend time with colleagues or family.
---
*CBRE Baltics provides a broad range of integrated commercial real estate services for developers, investors, and occupiers in the Baltic States, including strategic consulting, property sales, leasing, facility and property management, project management, market research, real estate due diligence and valuation. CBRE Baltics currently has offices in Riga, Vilnius, and Tallinn, and is part of the CBRE Affiliate Network.
---
FACTS as of Q4 2022
* Listed on the Tallinn and Stockholm stock exchanges, Baltic Horizon Fund specialises in commercial real estate in the Baltic capitals. The fund has long-term experience in investing in and managing retail real estate and office buildings.
* The fund's portfolio includes 15 properties in Tallinn, Riga, and Vilnius worth over 333.1 million Euros. There are six properties in Lithuania, five in Latvia and four in Estonia.
* Registered in Estonia with a closed contract, the investment fund Baltic Horizon Fund's portfolio is diverse as it contains different real estate segments in different countries.
* As of the fourth quarter of last year, the majority of the net operating income – 56% – is generated by offices, followed by retail at 39% and the rest is generated by leisure. The net area of the rentable spaces is around 150,000 sqm in total.
* Most of Baltic Horizon's real estate assets are located in Lithuania and Latvia (39% and 39% respectively). 22% of the portfolio is located in Estonia.